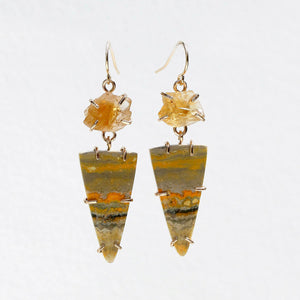 Made from raw citrine gemstones and bumblebee jasper with 14k gold filled.
Measures approximately 1.75"/4.5cm
*ABOUT OUR CITRINE- Almost all citrine on the market has historically through time, going back to ancient Egypt, has been subjected to heat to enhance its natural colour. Therefore the citrine we use is an exception to our rule and has been heat-treated in a traditional way.